Resident Benefits Package
At Emerald Lakes, our mission is to create a community where our houses become homes and neighbors become friends. We are thrilled to offer premium services through our established partnerships with reclaimed vendors who share our vision of excellence. With our partnership you are entitled to a discounted rate of services that are conveniently bundled together in your resident benefit package.

These services include:

Smart Home
Our Smart Home empowers you to enjoy a truly connected living experience. This package offers a range of innovative features designed to elevate your everyday living by utilizing these key features:
Smart Lock
Smart Thermostat
Smart Door Sensor
Smart Doorbell
Security System
Esusu Credit Reporting
We understand how important credit is to your future and this is why we partner with Esusu Credit Reporting. Esusu is designed to empower your financial success by reporting your on-time rent payments to the leading credit bureaus which contributes to boosting your credit score. Rent, being one of your most significant monthly expenses, deserves recognition which is why we record your punctual payments.

BILT Rental Rewards
BILT Rental Rewards is a revolutionary program that allows you to earn valuable points simply by paying your rent through the BILT application. By making rent payments using your preferred payment method through the BILT application, you can accumulate reward points that can be used for various perks.
Professional Landscaping
We prioritize the beauty and upkeep of your surroundings. We have partnered with a reputable landscaping company that mows and trims your lawn giving you back your personal time.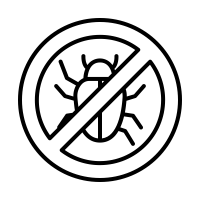 Community Wide Pest Control
We understand the importance of a pest-free living environment which is why we have implemented a comprehensive community-wide pest control program.
Testimonials
"Excellent! They worked super-fast. Very happy"-Tammy V.
"Excellent, we felt like we had come home. Our new home is everything we ever wanted. The manager made the process easy for us to be approved and we move in June 2023."-Cindy D.
"Had two issues that needed attention ASAP. Within 2 hours of notifying Emerald Lakes both items were completed." -Jeff H.
"Beautiful place with beautiful souls loved my experience I couldn't leave with getting a home" -Travis P.
"The maintenance guy gets to things quickly and resolves the issues no questions asked. Thank you!" -Jamee R.
"Maintenance is always prompt and thorough!" -A.D. Campbell